WELCOME
WHAT A PLEASURE TO HAVE YOU HERE AMONGST MY UNIQUE HANDMADE PRODUCTS.
YOU WILL FIND PERSONALISED VIBRANT SPARKLE GIFTS MADE WITH SUBSTAINABLE MATERIALS WHEREVER POSSIBLE. MOST MATERIALS ARE LOCALLY SOURCED SUPPORTING OTHER SMALL BUSINESS OWNERS.
"I wake up every morning and think to myself, 'how far can I push this company in the next 24 hours.'"
– Leah Busque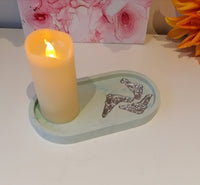 Jesmonite Trinket Tray
This collection is inspired by the use of jesmonite and stamp to make loveable homewares.
DISCOVER THE COLLECTION
WHAT IF YOUR GIFT HAD THE POWER TO MAKE PEOPLE LIKE YOU? NO... LOVE YOU!
What would you give if you didn't care? How about if you did? 
REVIEWS
Looks great in my products, quick delivery can't wait to see what wow you have

GeminiByLindsey
Gorgeous and fantastic quality thank you so much!

flistait
Absolutely perfect item, exactly as I wanted it and first class customer service. This seller was responsive and helpful, managed to get my item to me on a tight time scale, and even took the time to colour match accessorise for me. Thank you!

holsb85
Always brilliant glitter and service.

Stacie
Absolutely love this, beautiful colour and quality, fast delivery.

Jade
Very pretty beads will be back

Helen Kirkby
"All our dreams can come true, if we have the courage to pursue them." 
– Walt Disney.